Feeling Lucky in Las Vegas!
This year I was fortunate enough to experience Vision Expo West.  The beauty of attending not only as a doctor, but also as a press badge holder gave me a little taste of the behind the scenes.  What I took back with me was a few things:
Eye on Fashion (pun totally intended):
Everywhere where I turned I noticed a new trend amongst the vendors, crystal colored plastics.  The crystal colored trend was like shopping at a candy store.  So many bright, fun, large frames to choose from that screamed attention.  This year, vendors wanted the glasses wearer to stand out like never before.  The glasses are the star attraction of any well-planned outfit instead of being an after-thought.  I personally love the fact that we are celebrating the piece of fashion that stands out the most when we first see each other because often times we forget that the face is where an initial bond takes place.
Always learning:
I took 6 hours of CE at Expo and the best part of choosing to take them there is that there is so many topics that I can tailor to my needs.  I had been wanting to discover new updates in glaucoma, needed a refresher in scleral lenses, and brushed up on some billing.  Thankfully, everything I needed was all in one place.   I was fortunate enough to give a CE myself.  Invision magazine believed in what I do and asked me to present an education course on Social Media Marketing.  The class was packed!  Not one seat was open and a few listeners even sat on the floor due to the lack of space. To me, the most valuable take home of giving a CE is inspiring those around you.  Many from the class approached Dr. Tanya Gil and I to tell us that it was the best CE they had taken all weekend because it was fun, interactive, and they took away a lot of great tools to improve their social media campaigns.  That to me is a successful CE.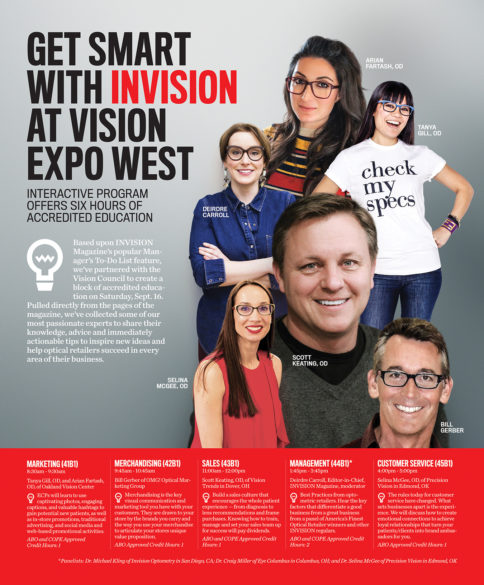 Making friends:
The very best part about being in one place as those who share the same passions with you is creating those long- term relationships.  During the three days, I was able to connect with my GlamOptometrist followers, get to know them, take some selfies, and continue connecting with them thru social media until the next time we meet. These new friends are now a part of a growing network of eye- lovers who I can turn to for advice, expertise, and recommendations and vice versa.  To me those relationships are priceless.